This article contains the following information:
Why Would CPP's Want This Information?
I want to be clear that we at The Doctor Patient Forum do not encourage anyone to obtain pills on the street, from a friend, or from anywhere other than your pharmacy.
We are aware that some chronic pain patients (CPP's) who have been medically abandoned have been so desperate for pain relief that they've either gone to the street or taken a pill from a friend.
Since up to 42% of all pills on the street contain illicit fentanyl, we want to provide Harm Reduction information so if you are getting medication from somewhere other than your pharmacy, you know what to do to try to keep yourself safe.
Please understand that when you take a pill that you obtained from someone other than your pharmacy, even if you use illicit fentanyl testing strips, there is no guarantee that the medication is safe for you to take. Even if you test your medication, we highly recommend you have Naloxone available (I will be adding content on this shortly, and I will link the information here) and that you don't ever take the medication when you're alone. In case you don't have anyone who can be there with you, there is a never use alone hotline 1-800-484-3731.
Illicit Fentanyl is not the same as prescription fentanyl. It is often made in labs in China and then smuggled in the the USA through Mexico. Illicit fentanyl is the leading cause of all drug-related deaths in the USA. Many who end up taking illicit fentanyl don't even realize it's in the medication or drugs they ingest. Due to this fact, we prefer to call it a poisoning instead of an overdose. Those who sell it often use pill presses so it looks identical to prescription medication. It is made to look like hydrocodone, oxycodone, Xanax, and other prescription drugs. It has also been found in other illicit substances such as heroin, meth, or cocaine. One reason drug dealers are using illicit fentanyl is due to its potency. A tiny bit goes a long way, but that is also the reason it kills so many people. The last statistic I read was that 42% of all street pills tested has illicit fentanyl in them.
What Are Some Myths About Illict Fentanyl?
A very common myth is that prescription grade fentanyl is what's killing so many people. This is absolutely false. Media and even addiction specialists often conflate prescription fentanyl with illicit fentanyl analogues. Illicit fentanyl, not prescription fentanyl, is what's killing so many people.

A recent toxicology study showed "Out of 18,393 deaths that were confirmed, probable, or suspected heroin deaths (including 2678 with morphine listed as cause of death on the DC) and 404 as probable pharmaceutical morphine deaths, among deaths with fentanyl detected, 89.3% were defined as probable or suspected IMF (illicitly manufactured) and 1.0% as probable pharmaceutical (prescription) fentanyl."

There is a false narrative that's widely spread in media and repeated often that just touching illicit fentanyl or being in the same room as it can cause an overdose/poisoning. You see images of police in hazmat suits. This doesn't happen. It's important to understand this fact because if you by a pill off the street and test it for illicit fentanyl, and it turns out your pill contains illicit fentanyl, merely touching the substance will not cause an overdose/poisoning.
Ryan Marino MD often addresses the myths surrounding illicit fentanyl. He has shared the following image with permission to share it: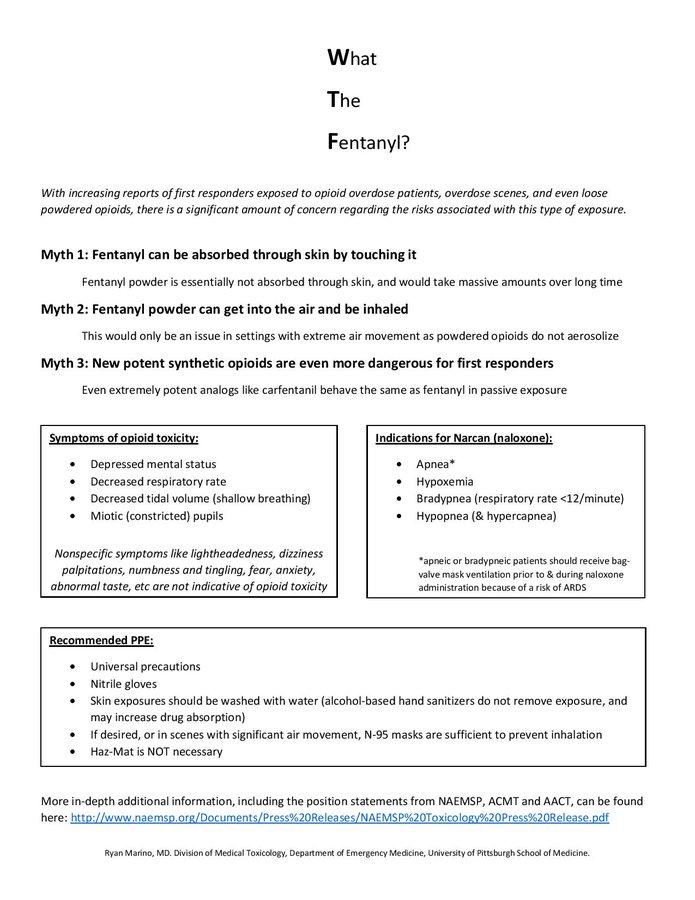 What Are Illicit Fentanyl Testing Strips?
Illicit fentanyl testing strips are part of Harm Reduction that assist in overdose prevention. They are actually FDA approved to detect fentanyl in urine, but are also increasingly being used as a Harm Reduction drug-checking strategy.
Please check here To find out if they're legal in your state.
For individual or small orders, you can get them at Dosetest. They cost about $1.00 each.
For larger orders (like if you want to order in bulk for yourself or to hand out) you can get them at BTNX. For more information about how to order them in bulk, please e-mail Michael@btnx.com.They sometimes offer a discount for new customers.
One important point to note is the results are opposite from other tests like pregnancy tests.

One tine = positive (+) result (meaning there is illicit fentanyl present).
Two Lines = negative (-) result (no illicit fentanyl detected).
The following graphic explains how to read results:
Remember, a negative test result is not a guarantee that illicit fentanyl is not in your pill.
Most how to videos and information are geared toward PWID (people who inject drugs). We know that most CPP's who go to the streets won't inject the medication. When testing a pill that you are not intending to inject you have two options -both are explained in the following video:
Dissolve the entire pill in water and test it (this is the most reliable method). Once it tests negative for illicit fentanyl, you can still swallow the liquid, or you can put it in a capsule to avoid tasting the dissolved pill.

Here are two websites to purchase gel caps which are specifically made for liquid such as essential oils:
How to fill a gel cap with liquid according to these websites:

Pull apart the capsule. One side is larger than the other, allowing the smaller end to fit inside the larger one
Draw your liquid supplements into a medicine dropper. Place the end of the dropper over the smaller side of the gel capsule.
Carefully squeeze the dropper to fill the capsule. Slide the larger end on to enclose the liquid inside the capsule.
Store in an airtight container in a cool, dry place.

You can scrape off part of the pill as Amanda shows in the following video. Just know there is no guarantee that the composition of a counterfeit pill is uniform throughout. So, it's possible that the small sample you test will be negative for illicit fentanyl, but other parts of the pill will be positive.
If you bought more than one pill, testing one of the pills does not guarantee that the other pills will have the same composition.
Here is a how to video by an amazing Harm Reduction advocate, Amanda Mazur. Check out her Tik Tok videos for more information about Harm Reduction. In addition to teaching about Harm Reduction, Amanda also fights for the rights of CPP's to have access to prescription opioids.
As always, if you have any questions feel free to contact us through our contact page.
This content was written by Bev Schechtman and Carrie Judy for The Doctor Patient Forum. Updated March 3, 2022